Description
RiChiamo was commissioned by L'Aquila government (Italy) for solo marimba and string quartet. It was premiered out there during the fall of 2012 and in 2014 and 2015 had some performances in Spain in its version with piano.
The piece is based on partridges singing rhythms.
Premiere: September 1st 2012,  by Ivan Mancinelli and Benedetto Marcello strings quartet. Contemporary music season of Società Aquilana dei Concerti (L'Aquila, Italy).
---
Relevant performances:
MADRID: Estreno español de 'RiChiamo' por el ensemble del RCSMM
http://soniamegias.es/evento/madrid-vii-monographic-en-la-sgae/
---
Pictures: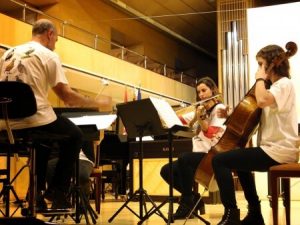 ---
Partridges drawings printed on the t-shirts: